Most homeowners build their tool collection one tool at a time. Then, they run to the store when they come up against a job requiring a particular drill or screwdriver, which becomes part of their tool kit. Eventually, there are enough tools that you need a system to organize them.
Organizing tools in your garage is even more complex if you use tools for work. For example, professional mechanics, builders, plumbers, and other trades workers need various tools as part of their jobs.
Staying organized is key to getting to them quickly and avoiding the frustration of not finding tools. In addition, a good system for your tools keeps them in better shape for longer and prevents things from getting lost.
Plenty of people have duplicate tools because their garage or wherever else they keep them in disarray. Save time and money by storing your tools effectively. Here are some tips you can use to organize tools in your garage.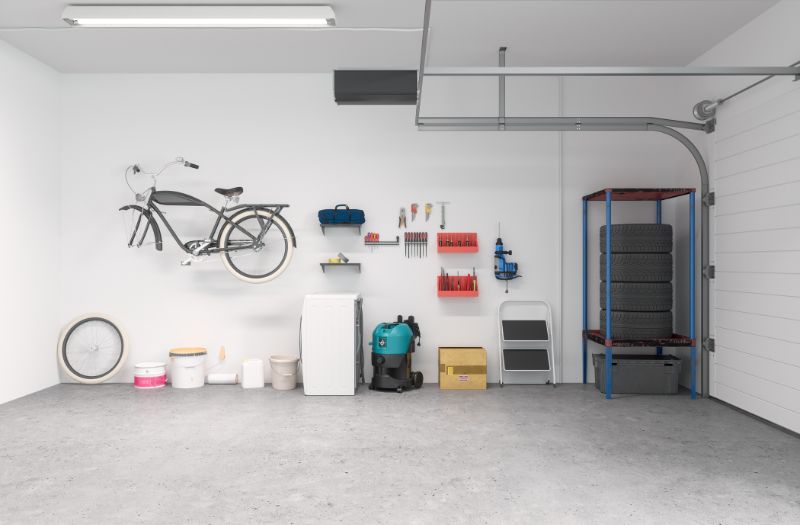 Clean Up the Garage
You can't create order in the middle of chaos. So before you start organizing, you need a clean space.
Ideally, you'll clean up your entire garage, but at least tidy up the area where your tools will go. For example, get rid of old toolboxes and rusty saw blades. Cleaning up is the time when you can focus on what you should keep and what goes in the trash.
Once you have a clean slate, getting and staying organized is much easier. In addition, you'll have the space to set things up for maximum efficiency.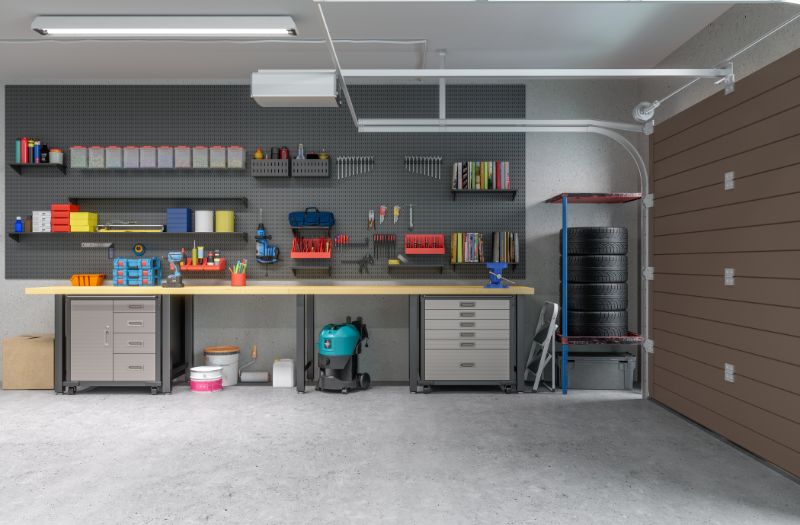 Create Different Tool Zones
Next, you'll want to organize your tools into zones. Each homeowner's zones will be slightly different based on what tools they use and projects they will work on around the house.
For example, a professional tradesperson who uses tools regularly may want to group all of their work tools in one zone, tools for the home in another, and the third zone for miscellaneous items.
Once you have general zones in place and everything gathering in their appropriate spaces, you can begin to make more detailed zones as necessary.
This all depends on just how organized you want to be; some people love having every type of screw or bolt in separate containers with labels. Other people are OK with having all of the small items in one big tub and the tools everywhere else.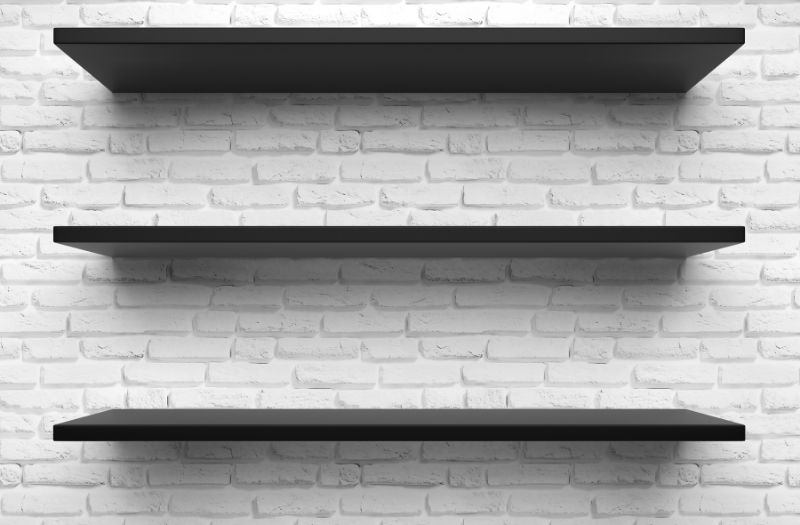 Buy Some Shelving Units
Shelves in the garage make getting organized so much easier. For tools, especially, shelves come in very handy. They keep your tools off of the floor to keep them clean and out of their boxes so you can grab them in a hurry.
If you are new to tool organization, you'll quickly discover that there are all sorts of organization shelves and containers specific to tools.
You can easily spend thousands of dollars on tool storage cupboards and shelves. High-end tool cabinets are excellent, but you can also get the job done with basic shelving units, particularly if you don't have that many tools.
Once you have some shelves in the garage, you can start to decide how you'd like to keep your tools for the long haul. For example, you can keep your nuts and bolts on middle shelves where they're easy to sort through. Light tools can go on top, and heavier power tools can sit on the lower shelves.
For safety, secure the shelving units to your garage wall. Tools tend to weigh a lot, and you don't want any shelves falling over when a kid gives them a tug or the dog knocks into them while walking past.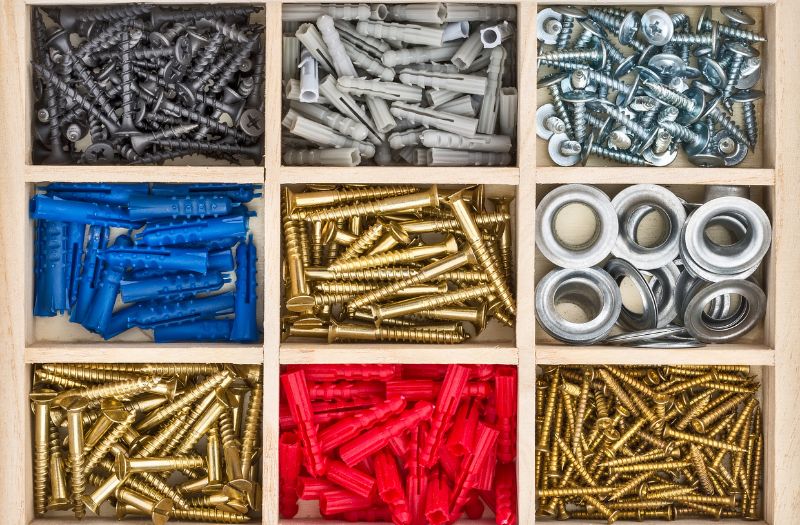 Use Smaller Containers for Screws, Nail, Bolts, & Other Small Bits
Looking in the average person's toolbox, you'll likely see a mess of different nails, screws, fasteners, and other small items.
Typically, you only need a handful of any sized screw at a time, but they come in boxes with a high screw count in them. When you're done, you toss the rest in the bottom of your toolbox.
Unfortunately, this process repeats itself, typically with you feeling frustrated whenever you can't find the right type of screw or nail in your chaotic toolbox.
Instead, buy some small plastic containers at your local grocery store and use them to keep all of your small tools and bits on a shelf. You can label them with something as basic as a piece of tape and a black marker.
Now, you can immediately grab the perfect nail or screw whenever you need to fix something around the house.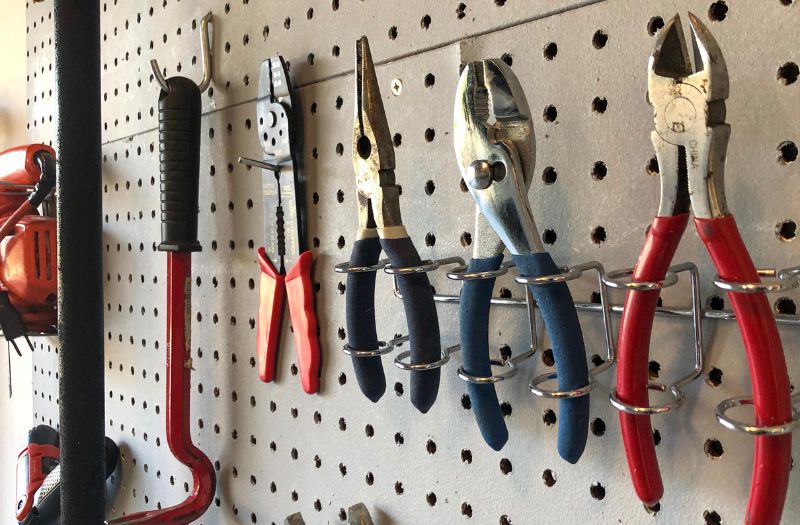 Take Advantage of Vertical Space with Pegboards
Pegboard works very well for tool organization because companies make hooks and racks specifically for tools.
If you have open wall space in your garage, hang some pegboard and design a unique tool organization system for your tools.
There are plenty of YouTube videos online for inspiration on ways you can set your tools up for the most efficiency and convenience.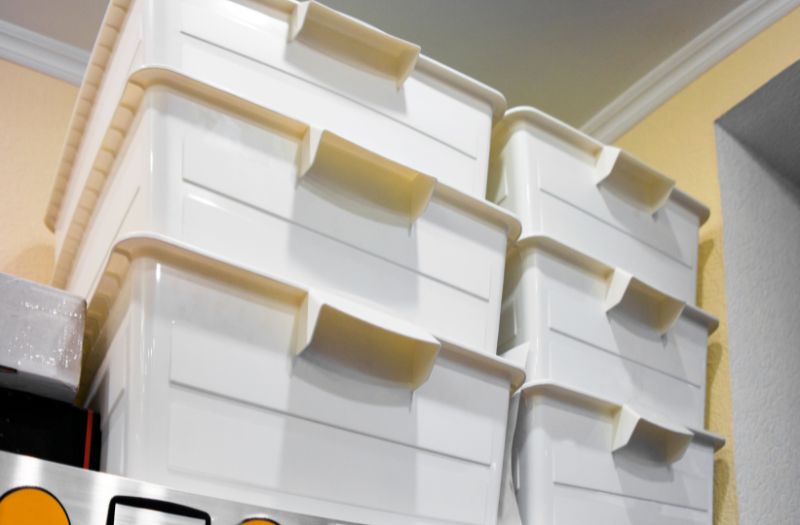 Use Sealed Bins for Any Dangerous Items
Some tools should be in sealed containers for safety reasons. For example, a table saw has sharp blades that can cut someone even when on a shelf. Likewise, if a saw or a drill falls off a high shelf or counter, it can easily injure someone.
If you have children, for instance, you'll want to prevent them from getting anywhere close to sharp blades or power tools.
Buy some sturdy plastic roller tubs online or at your local container store. You can buy see-through tubs that make it easy to see what's inside and store them under counters or a tool bench when you're not using them.
Get Everyone On Board with Your Tool Storage System
A tool organization system in your garage is only as good as those who use it. So, after you spend hours cleaning and organizing your garage, you should explain your system and what you'd like to see to anyone who lives with you or uses your tools.
The last thing you want is to organize and have other people not stick with the program. Discipline and commitment to the organization system are essential to keeping things tidy for more than a few weeks.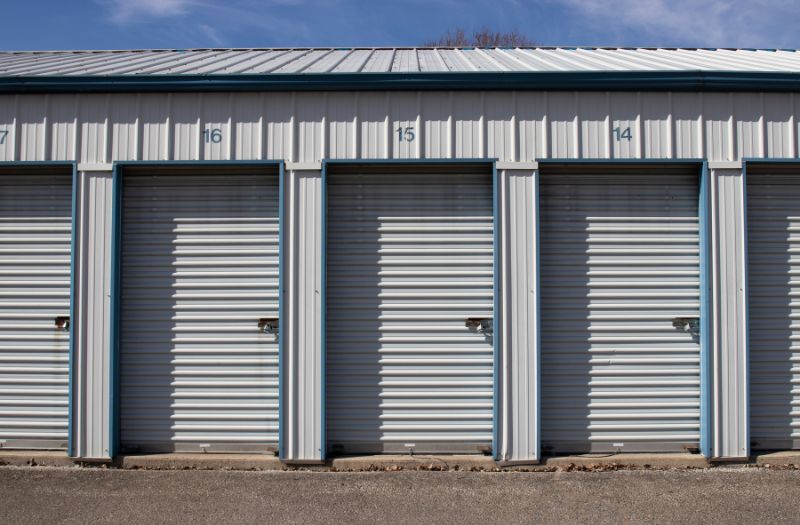 What If You're Short on Garage Space?
What should you do if you don't have enough garage space for all your tools?
This is a common problem people with a lot of tools face. If you don't have the room, you'll ultimately have to decide what makes the cut in the garage and what has to go somewhere else.
Before moving things around, think about which tools you use most frequently. Those should stay in the garage or somewhere closer. Then, consider where you can store the rest of your tools, whether in the basement or a backyard storage shed.
Some homeowners rent storage units for larger tools that they can't use. For example, people with table saws who like to do home projects in the summer will keep everything in a self-storage unit during colder months to prevent weather exposure. It's a good option that doesn't break the bank.
Conclusion
Remember, getting started is usually the easy part. The hard part is staying organized whenever you use your tools or buy new supplies.
Tool organization in a garage, shed, or storage unit takes commitment to a system. Once you get everything set up, stick with it to avoid buying more than you need and get more years out of the tools you have. 

If you're looking for a storage facility to store your belongings, Snell Mini Storage has got you covered. At Snell Mini Storage, we offer a wide range of unit selections. To learn more about our self-storage facility, please check out our website at https://snellministorage.com/.