Every year, more people are discovering the benefits of self-storage. They add flexibility into your life in a way few things can. Nowadays, there is likely a modern self-storage facility near you with secure, easy access 24 hours a day. You can keep sporting equipment in them for the weekend or help stage your move to reduce some of the stress of preparing for a new job, finishing university, or some other major life milestone.
Most people are surprised at just how affordable, and flexible self-storage units are. You can find a well-lit unit just your size at a great price. It's well worth the money to keep your garage or basement clear of clutter. Storage units are also fantastic for people who would rather live somewhere smaller and be closer to the action, like restaurants, bars, gyms, and other amenities.
A key part of getting the most out of a storage unit is packing it correctly and organizing it. As with any other space, the better you keep it, the easier it is to find things. In addition, you'll feel great knowing you can get what you need by popping into your unit whenever is convenient.
If you're looking for better ways to stay organized or packing into a storage unit for the first time, here are some amazing tips you can use to get the most for your time and money.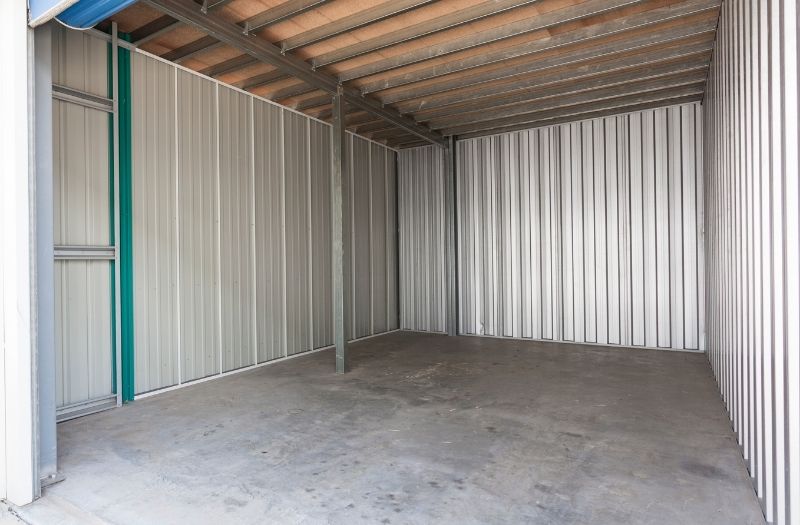 Make Sure The Unit Is Clean
This should go without saying, but your storage unit should be clean before moving in. Hopefully, you've got options in your area and can find a facility with good reviews that are managed correctly. That means it's clean and safe. Keeping your things in a dirty storage unit can lead to rodent infestation, bugs, mold, or some other problems you never want to deal with. The dirt will be unpleasant, but it can also damage your property.
Even if it's relatively clean when you sign the lease, give your unit a good sweeping before moving your things in. Also, when your lease is ongoing, you may want to go to the unit from time to time to dust and keep it in good order.
Use Shelves
If you just move boxes or large items like furniture into your unit on the ground, it will make it more difficult to move around and get what you need when the time comes. Use free-standing shelving units to put smaller items on rather than the floor if you have some available. This is also a terrific way to prevent moisture buildup by keeping things off of the floor when the temperature changes.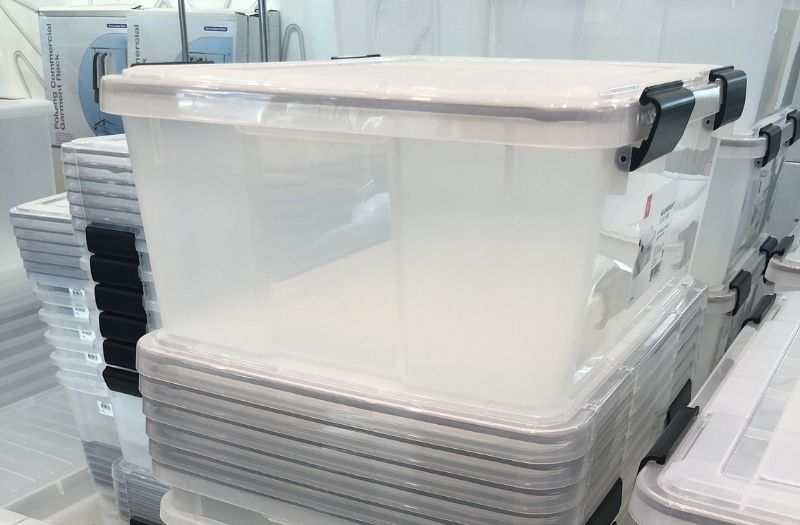 Use Clear Storage Containers
Boxes work great. If you're using boxes, label the outsides to list what's inside of the box. This will save you a ton of time if you can't remember where a specific item is, or worse, you have to try and tell someone where something is when you need some help grabbing something.
Better yet, invest in some clear storage containers that keep your items more protected, and you can see what's inside of them. Plastic containers often come with wheels to make moving them around easier, and they're made to stack on top of each other. Plastic is the perfect choice for people living in areas with changing seasons or units without temperature controls.
If you're worried about moisture, you can rest the containers on cinder blocks or something like a wooden pallet to let air circulate underneath.
Use Lightweight Covers for Larger Items
Even if you plan to use things in your storage unit regularly, there will be times when you spend weeks or months without a trip to the storage facility. When that happens, you'll be glad you used a lightweight cover to keep dust off of your bikes, couch, or whatever else you have in there. In addition, you can use something like a tarp, sheets, or old towels to protect them from any sort of sun damage or mold.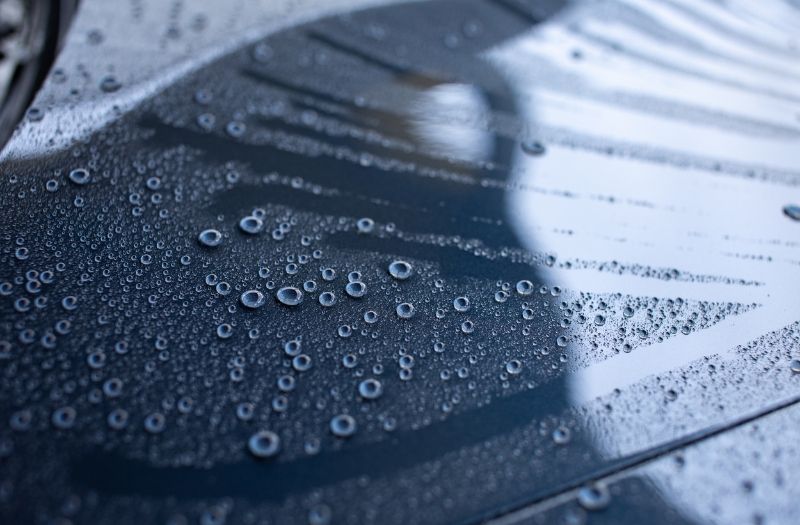 When to Waterproof
The chances of a flood in your storage unit are minimal, but there is always a risk of water damage. It could be a pipe leak or a heavy rainstorm. All it takes is one black swan event, and your property can be damaged. While it's unnecessary to waterproof every item, you should consider waterproofing electronics, something like a stamp collection, or books you treasure. This added layer of protection will give you peace of mind no matter what happens in the area.
Use Bubble Wrap for Fragile Items
It's never a good idea to store personal valuables in a storage unit. While modern storage units are safe and many of them have 24/7 security monitoring, some things simply belong in a safe. There is also the question of liability, and many storage facilities clearly restrict some items in their units because they don't want to shoulder the cost of replacement. So if you have something worth that much, keep it in a safe at home or someplace like a safe deposit box at your local bank.
We're talking about things like antiques, dishes, pictures, and other items that could break or shatter when we say fragile here. So when you're packing these types of things for the storage unit, be sure to use plenty of packing paper or bubble wrap for padding. They should be fine in the storage unit, but the risk is really whenever you move them or mistakenly stack a heavier box on top of the container that they're in.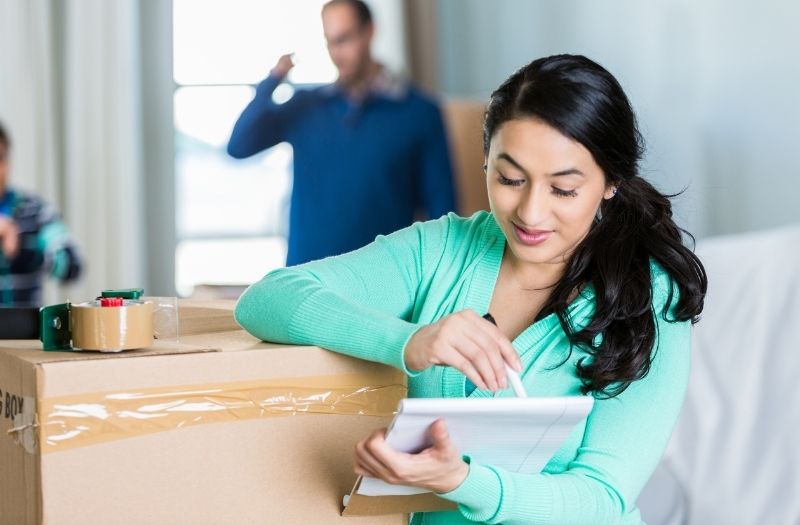 Use an Inventory List
If you're cramming a lot of stuff into your storage unit, like for an upcoming move or keeping inventory for your business, then you will save a ton of time by keeping an inventory list of what's inside and where it's located.
When you load things into the storage facility, keep track of which boxes are where. One way to track this is to take pictures of the boxes and where they sit in the unit. Then, write down on your list what's inside. This will help you remember what you have in your unit and how to get to it the quickest.
Something like this helps a ton when you're making a big move. For example, military personnel posted across the country or overseas can keep their storage units for years. You may think you're going to remember what's inside, but typically these folks come back wondering about a lot of what's inside. It's almost like a treasure hunt when it's time to unpack. An inventory list helps you remember what you have and makes unpacking more efficient.
Keep What You Need in Front
The antiques from mom or dad that you don't know what to do with can go in the back. Your winter gear can go in the front and the bikes you use most weekends. Pack your items in a way that makes the most sense based on when you'll need them. Longer-term storage goes best in the back. Do what you can to leave a path through your storage unit so you're not climbing over boxes and ruining things because you can't find a way to get to something. If you're stacking containers, keep the heaviest things on the bottom to alleviate some pressure on lightweight items.
Follow these packing tips to make the most of your storage unit and make moving and out a breeze! Staying organized is key to reducing moving stress and getting the most for your money.

If you're looking for a storage facility to store your belongings, Snell Mini Storage has got you covered. At Snell Mini Storage, we offer a wide range of unit selections. To learn more about our self-storage facility, please check out our website at https://snellministorage.com/.