Professionals have way more flexibility regarding where and how they work these days. Everyone from white-collar office workers to call center representatives can get stuff done as long as they have a phone, computer, and a stable internet connection.
During the pandemic, when millions of people had to adjust their work settings, many of them were either forced to work from home or find ways to be productive outside of the office. Working from home became more difficult in many cases because employees didn't have dedicated workspaces. In addition, sometimes, people had to work from home alongside their spouses and children.
Having a home office is a luxury. However, creating an effective workspace is often challenging for people living in small apartments. You have less room to work with; typically, people must compromise over function and comfort.
Finding the best approach to a home workspace is essential to working more productively and getting the most out of the area you have. Here are some creative ways to build a workspace you enjoy and gets the job done.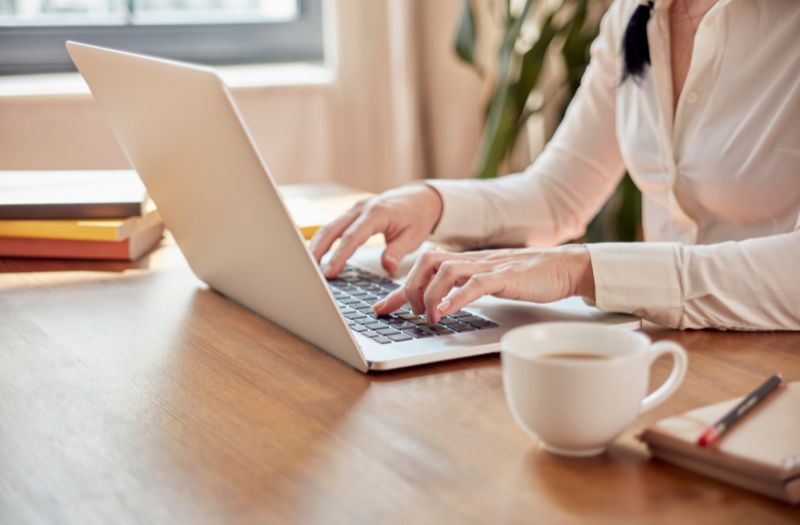 A Desk or a Dining Table?
The main issue, for most people, is finding a flat surface where they can get stuff done. For many, that means clearing off the dining room table or kitchen counter during work hours. That, typically, is where it's easiest to be productive for hours at a time.
For others, however, working on the bed is a possibility. A small foldable table can deliver the sturdy surface you need to balance your laptop for emails and other work tasks. Obviously, the best option for a workspace in a small apartment is a manageable desk that doesn't take over the room. Thankfully, you can find desks that fit into corners, next to your bed, and other compact spaces.
Before you buy a desk for your work-from-home setup, measure your available space to help you determine the optimal size. If you do buy a desk, explore the storage options available with your chosen model. Ideally, you'll find a desk that comes with installed drawers to help you avoid clutter on the desk while you work.
If you have the budget, consider buying a standing desk to help you pass the hours without spending all day in an unhealthy position. You can find some fantastic desks with motors that move up and down to fit you and your posture perfectly.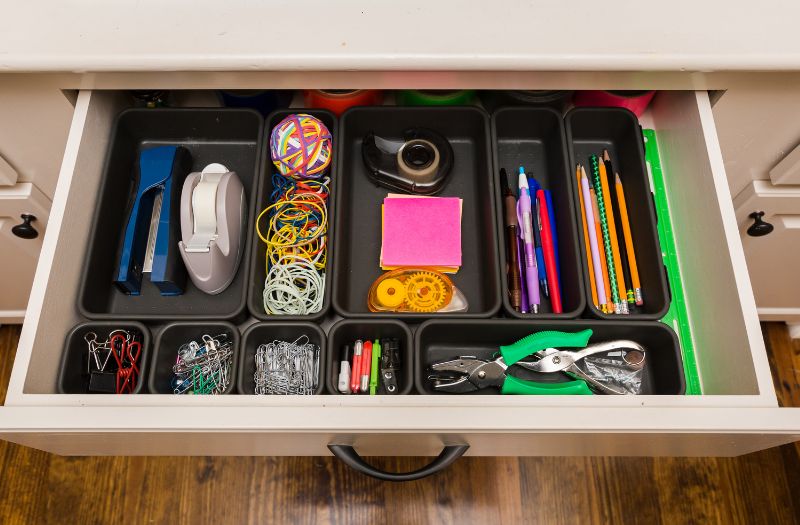 Use Dedicated Work Drawers
If you're using your kitchen counter or dining room table for work at home in a small apartment, you need drawers to store your home office when you're not "at work."
Ideally, you'll have a kitchen drawer or a hallway dresser nearby where you can keep all your cords, notepads, laptop, and other work items. These days, however, you don't need a ton of space to work from home in a small apartment. Many workers get by perfectly with their computers alone.
Nevertheless, having a specific work drawer keeps you organized and makes transitioning from work to dinner time much more straightforward.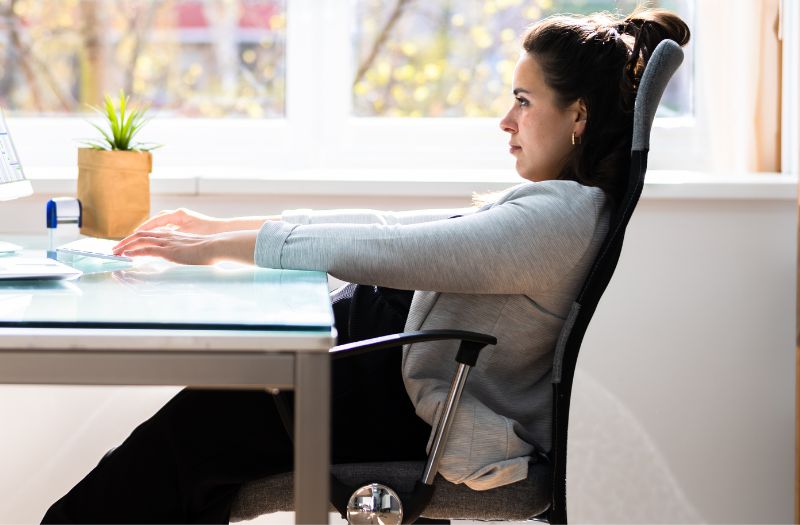 Invest in a Good Chair
Once your desk area is sorted, you need a high-quality chair next. You may love the look of a chair with a wooden back and legs, but your body won't appreciate it much after a few weeks of work.
The chair will significantly impact how you feel as you work from home. You don't have to invest in an expensive gaming chair, but a nice leather or imitation leather office chair with padding will keep you supported all day. There are a million office chair designs, some costing thousands of dollars. Find one you can afford that works well and is functional.
Typically, there's a bit of a sacrifice regarding style, but if you're working from home for hours, you need a functional chair more than one that looks nice.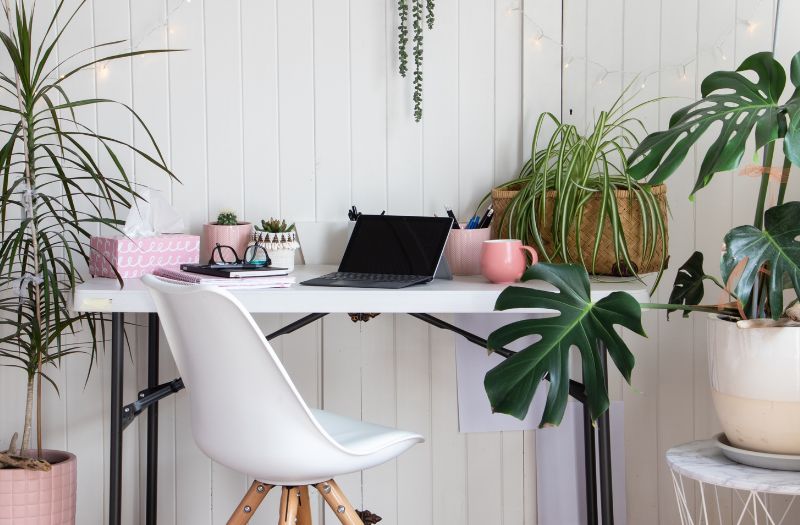 Deciding Where Your Home Office Goes
Too often, people don't put much thought into the position of their office. Usually, it's stuck behind a couch or shoved into a bedroom corner. This makes sense because people want to keep their homes looking nice, and a desk with monitors and cables all over it isn't the most attractive indoor view.
For people in small apartments and city livers, having a home office in the middle of the room or next to the dining table is a reality. People become accustomed to having the home office take up space, especially when there's no dedicated office room.
Before you decide where to put your office, think carefully about how often you'll work from home and how many hours you might spend in that cramped corner or hiding in your bedroom. If you're going to be using the workspace for hours daily, you may want a window to look out of or the kitchen within reach to grab an occasional snack.
People who work from home more regularly should optimize their workspace rather than marginalize it.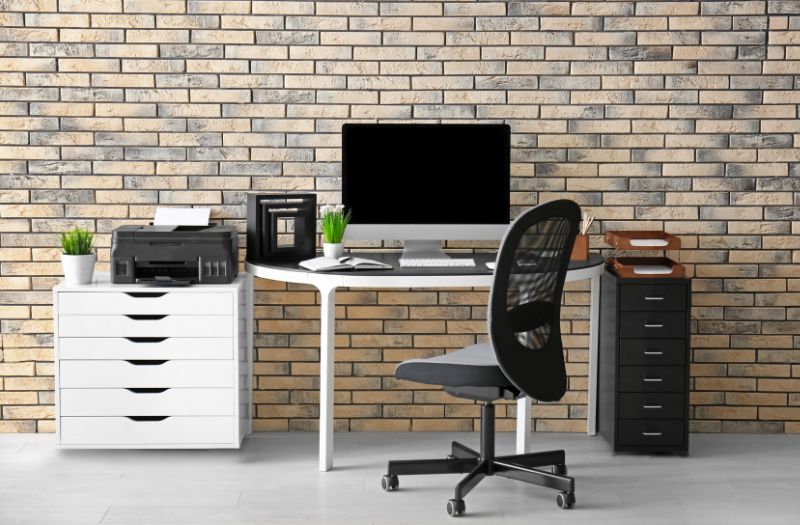 Extending Storage Options Around the Workspace
Adding storage options around your desk will prevent clutter in your workspace and keep you organized. Hopefully, your desk will have a drawer or two, but you can also increase your storage by installing discreet shelves behind your monitor that won't get in the way of your interior design.
In addition, you can buy some stylish baskets to sit on the floor on either side of your desk. Here, you can store anything from a headset to your Bluetooth keyboard. A nice wicker basket or a basket made from woven cotton adds to your apartment, and they're a nice way to store that back support pillow that you'd rather keep out of sight when guests are over for dinner.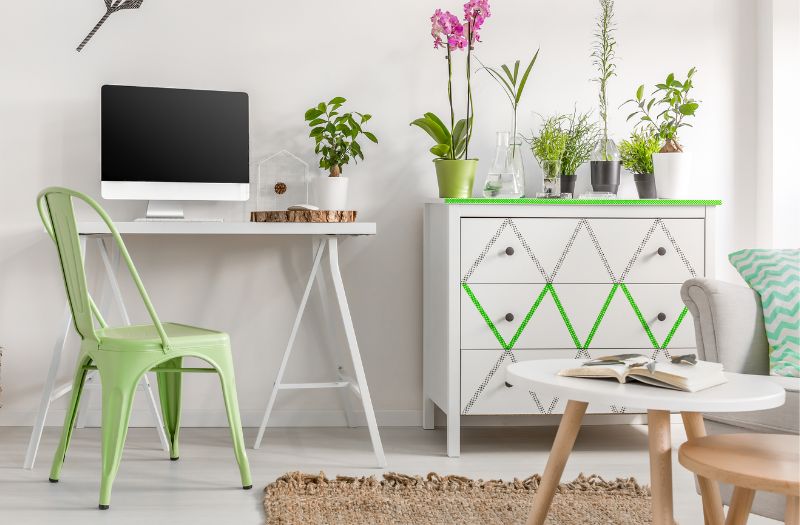 Find Furniture that Fits Your Space
If you have the room and inclination, you may want to consider upgrading your furniture to accommodate a home workspace. For example, you could buy a loft bed with a built-in desk. Lots of tech workers use bed-desk combinations like this in NYC or San Francisco, where rents are very high and small apartments are the norm.
You could also purchase a dresser with a desk space that comes with it. So, you could keep your clothes or other items in the cabinets and drawers but still have a desk where you can sit and get work done.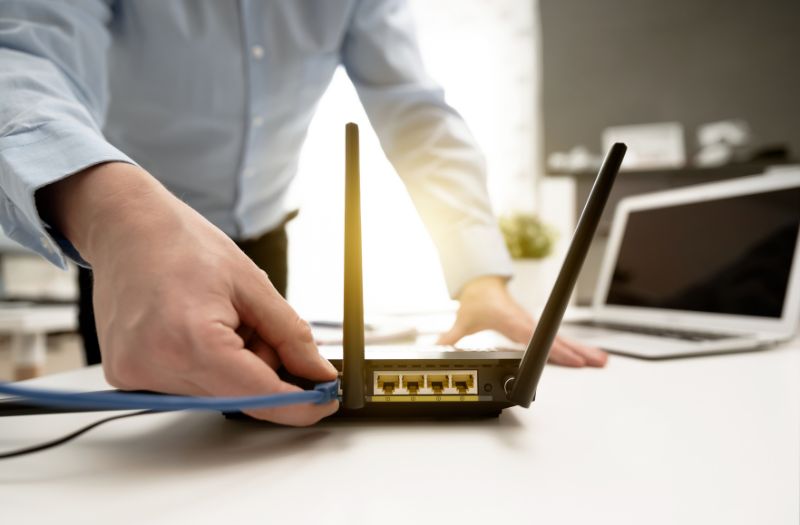 Learn How to Manage Cables
Cable management is essential to an organized workspace, especially if your desk or work area is in your living room area. Having cables strewn about looks chaotic. Instead, buy some compartments and cable ties to keep your monitors, keyboard, mouse, and other cables together and out of site.
Think About Renting a Storage Unit
Finally, you may want to explore renting a small self-storage unit to create additional space in your small apartment. Typically, you can find an affordable unit close by where you can offload things you don't use often and open up your apartment more to make room for a desk and other dedicated work items.
Having a storage unit is ideal for seasonal items like winter clothes, bikes, and other stuff you'd normally keep against a wall or behind a couch before you began working from home. Now, however, the more space you can give yourself, the more comfortable you'll feel and productive you'll be.
Approach your home workspace with the intention of creating a desk or office that you'll love using for hours a day. The more time you invest in setting up your workspace, the more effective you'll be at home. 

If you're looking for a storage facility to store your belongings, Snell Mini Storage has got you covered. At Snell Mini Storage, we offer a wide range of unit selections. To learn more about our self-storage facility, please check out our website at https://snellministorage.com/.