When you move into your first apartment, odds are you'll need to accumulate necessities in stages. It's rare that someone can buy everything they need all at once. For most people, buying things they need, like kitchenware and bedding, is a process of separating the essentials from things that can wait.
What do you need before you move in or just after the move? Having the main things sorted and purchased will make a move and settling-in process much smoother. How much money you spend depends on your budget and the quality of goods you want. Things like beds, for example, will vary widely in price.
What we do here, however, is help you choose the most important things to get for your first place, so you're not left kicking yourself that you forgot to purchase pillows after you go through your move-in budget.
Here's a list of some of the main things you need for your first apartment.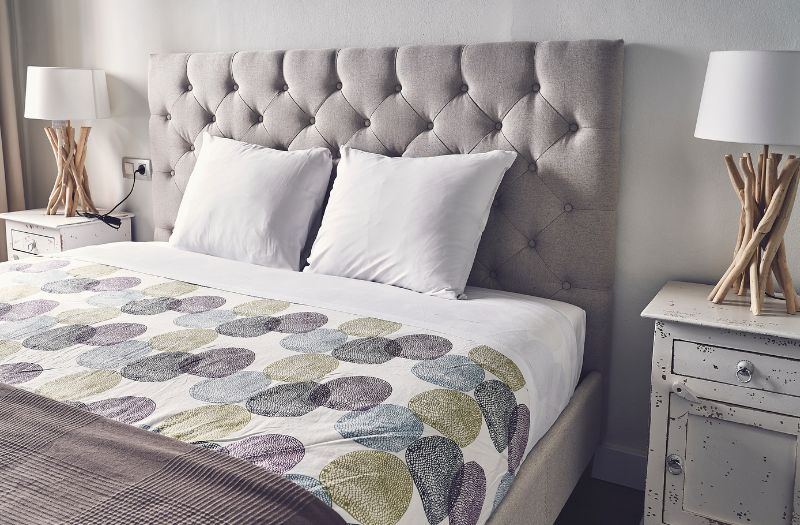 Bedroom Necessities
You'll spend most of your time in your bedroom. When you combine sleep and time relaxing in bed, changing, etc., the bedroom is your most essential room in the house.
Unfortunately, too many people skimp on beds and bedding, and they regret it. Instead, invest in some high-quality items to make sleep a luxury that will charge you up for work, school, or whatever comes your way.
The mattress makes a big difference in your sleep. Research what types of mattresses go best with your sleep position and firmness preferences. If you're stuck, you can always visit a local mattress store and try some of them! Then, you can research where you can buy the most affordable version online.
In addition, buy some high thread count sheets, nice pillows, and a good comforter.
Here's a basic list for your bedroom:
1-2 pillows
1-2 sets of sheets and pillowcases
Comforter
Mattress
Bed frame
Laundry basket
Hangers for the closet
Dresser or plastic organizers
Also, you may want to purchase a bedside table and a lamp if you're an evening reader. In addition, pay attention to whether the bedroom has curtains or blinds. If not, you'll need to buy some once you move in.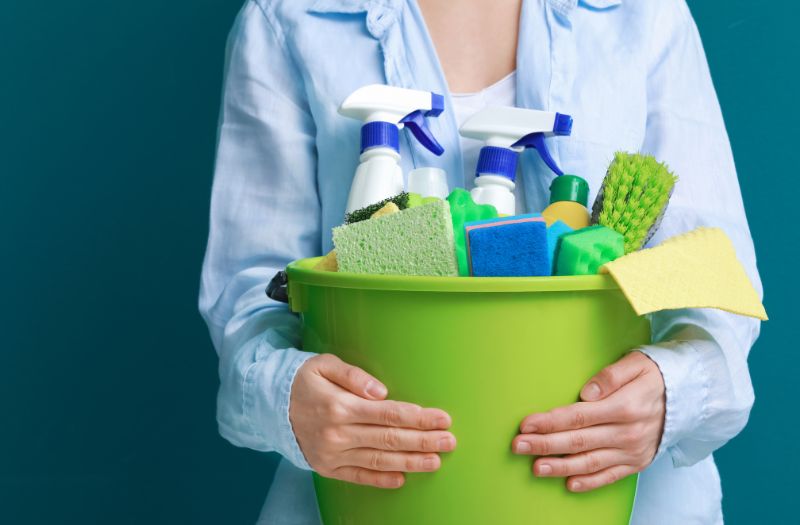 Cleaning Supplies
Once you sort through what you need for your bedroom, you should focus on getting some essential cleaning items.
Staying on top of chores will keep you happy at home and ready for guests whenever they pop in. Having a tidy, organized apartment makes everything from working from home to relaxing easier. You'll feel comfortable in your space. Keeping clean also prevents things like mold, allergies, bugs, and other problems at home.
Having high-quality cleaning supplies gets the job done faster. You don't need all everything in the world, just a handful of items to make cleaning efficient and thorough. Here's what you should get:
Sturdy broom
Dustpan with handle (so you don't have to bend over to sweep debris up)
Mop or something like a Swiffer for hard floors and bathrooms
Disinfectant cleaning spray without bleach (to use on kitchen counters)
Toilet cleaner
Glass cleaner spray
A toilet-cleaning brush
Plunger
Small towels
Sponges
Garbage bags
You'll also want a vacuum if you've got carpets. While you can easily spend several hundred dollars on a modern, fancier vacuum, we recommend getting something more basic for your first apartment if budget is a concern. After that, it will work fine, and you'll have more money to spend on more important things.
Also, buy things like soap, detergent, dishwashing liquid, and hand soap for the bathrooms.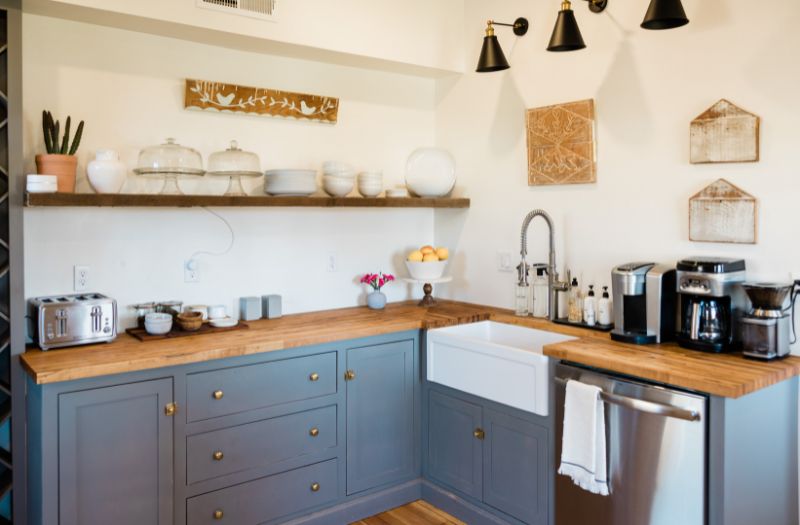 What to Buy for Your Kitchen
Buying the main things you'll need for your kitchen is tricky because everyone is different. For example, some people love to eat rice, so having a nice rice cooker is a must. Other people never cook at home, so they won't need a ton of things.
When you move in, itemize the things you must have that are specific to your eating habits. However, here are some general items you'll want to have that will serve you in almost any instance.
The essential kitchen list includes things like:
Napkins
Paper towels
Cooking spray
Silverware (yes, you can live off takeout plastic forks, but you'll be happier eating with real flatware)
A coffee maker (if you drink coffee)
Microwave
Knives
Cutting board
Ice trays
Leftover containers
Dish rack
Garbage can
Oven mitts
Baking sheet
One large frying pan
One medium pot
A casserole dish
Drinking glasses (2-4)
Spatula
In your kitchen, knives and pans are where you likely want to spend the most money. A good set of knives can last a lifetime. They also make prepping and cooking food much easier. So you'll be glad if you spend up to buy some nicer knives.
The same goes for pots and pans. If you can only afford to buy one nice cookware item, buy a nice frying pan. You'll use it for most of your cooking and will be glad you have a dependable non-stick pan you can grab to cook eggs for breakfast or chicken for dinner.
Once you have the basics, then you can start collecting items like blenders and mixers based on what you plan on doing in the kitchen.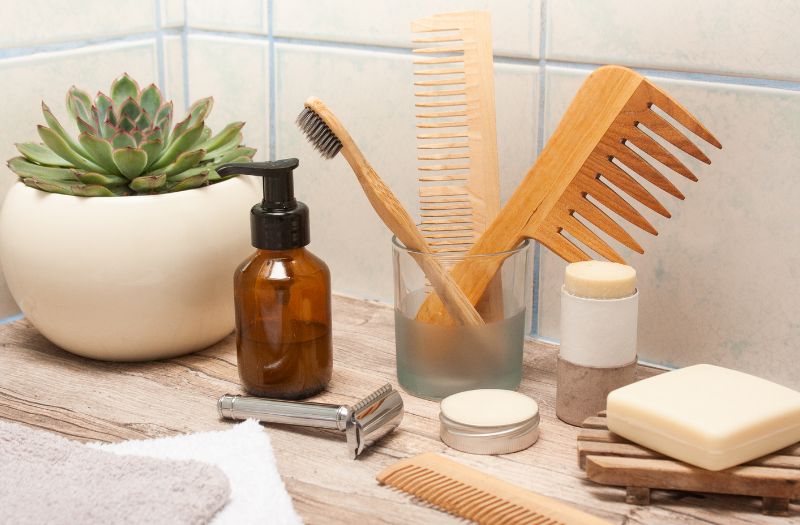 For the Bathroom
When you move into your first apartment, you will likely already have things like hair products or shampoo. If needed, buy some new hygiene products, but most of your time should be spent on getting things like some nice towels. Towels are probably the most essential bathroom item you'll need for your first apartment. Get at least two full-sized towels and a few hand towels for the sink area.
Other than that, you'll likely want a trash can in the bathroom and some small trash bags to go with it. Also, check to see whether the bathroom has a shower curtain installed. If not, pick one up at a local store or online.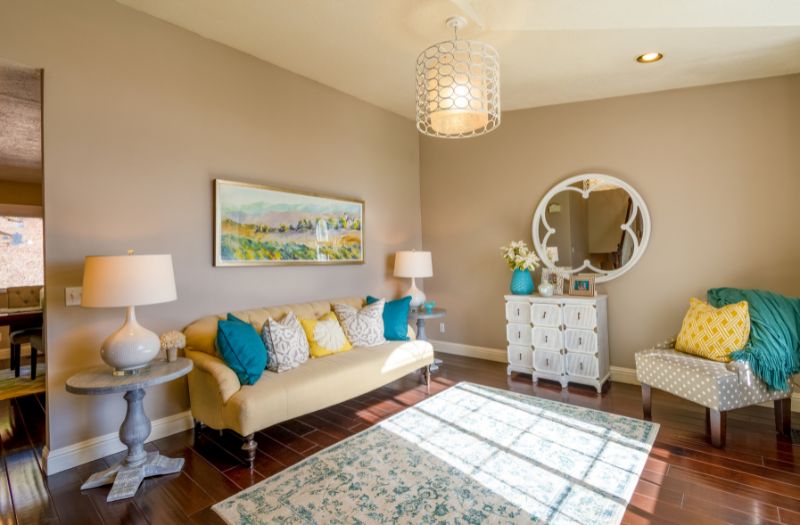 Living Areas
If you've got some budget left over, you'll want to buy something to sit on. Whether that's a couch or a dining room set, it all depends on personal preference and how much you can afford.
However, one of the best parts about moving into your first apartment is that there are always people giving things away or selling them online for massive bargains. So you can find decent couches, dining tables, chairs, coffee tables, lamps, and other decorations in your area for a fraction of the price you'd pay for new stuff.
Buying well-cared-for furniture is a massive life hack for people just starting out. You save money and will typically have plenty of options to choose from. Once you sign the lease on your first apartment, you'll quickly learn how expensive something like a recliner is. Instead, buy something gently used that you'll enjoy having for years.
Here are some essential furniture items
Dining table
2-4 dining chairs
Couch
Area carpet (for large hardwood floor areas)
Dresser (for clothes or organizing)
Desk and chair (if you work from home)
Once you have these, you can choose how you want to design the rest of your apartment as you earn and save.
These days, buying what you need is much easier than before. In your first apartment, a new item is always only a day or two away if you can't run to the store to buy it immediately. So don't sweat things too much. As long as you have the essentials on this list, you're good to go!

If you're looking for a storage facility to store your belongings, Snell Mini Storage has got you covered. At Snell Mini Storage, we offer a wide range of unit selections. To learn more about our self-storage facility, please check out our website at https://snellministorage.com/.